This week we put the spotlight on the Sortis Rescue Fund's latest investment in sustainable sushi restaurant, Bamboo Sushi.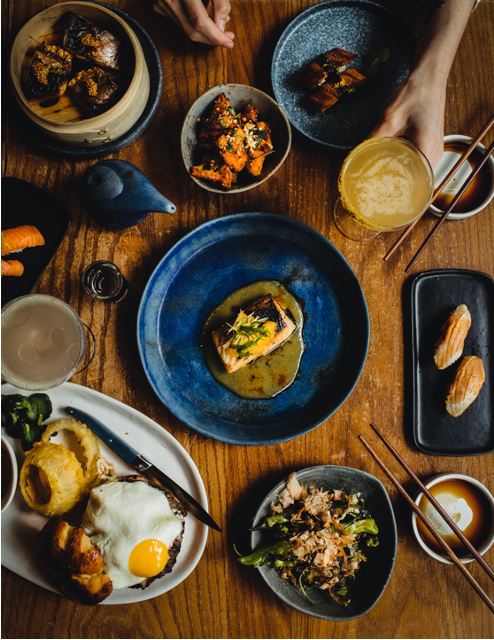 At Bamboo Sushi, every decision is made with the highest regard for the world and the people in it. From transparency in how they source food, to reducing their carbon footprint and enriching the communities they operate in, Bamboo's mission is to change the way people eat, inspiring a shift within the restaurant industry and beyond.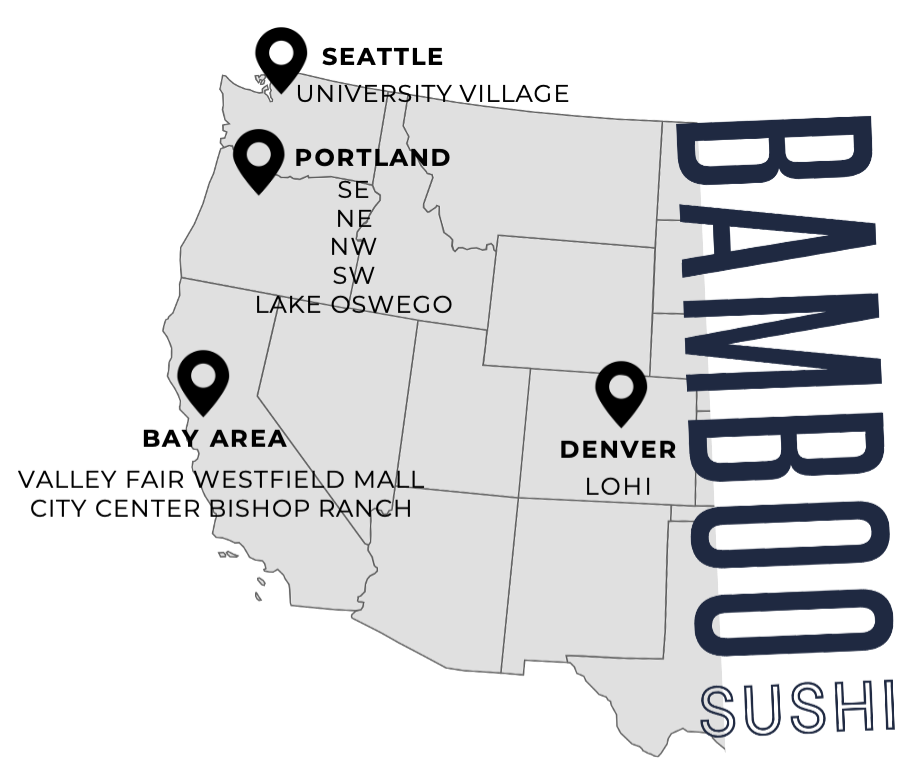 Under Construction
Bamboo Sushi San Jose, CA, Valley Fair at the Westfield Mall – Opening October 1

Sustainability
Sustainability award winning Bamboo Sushi is known for their dedication to green hospitality. They have established partnerships with key organizations including:
Monterey Bay Aquarium: Seafood Watch
James Beard Foundation: Smart Catch
Marine Stewardship Council
Green Restaurant Association
Ocean Foundation
Surfrider Foundation
In addition to their partnerships and certifications, Bamboo Sushi has three core sustainability programs:
1. Carbon Footprint Monitoring – Bamboo Sushi has a live dashboard on their website monitoring the carbon footprint of everything they do, from operating their stores down to every ingredient they use.
2. Sourcing – Also available on their site is a dashboard for real-time supply chain data, highlighting the available species used and indicating where and how they were caught.
3. Transparency – Rare in the restaurant industry, Bamboo provides transparency around who their vendors are and where they operate.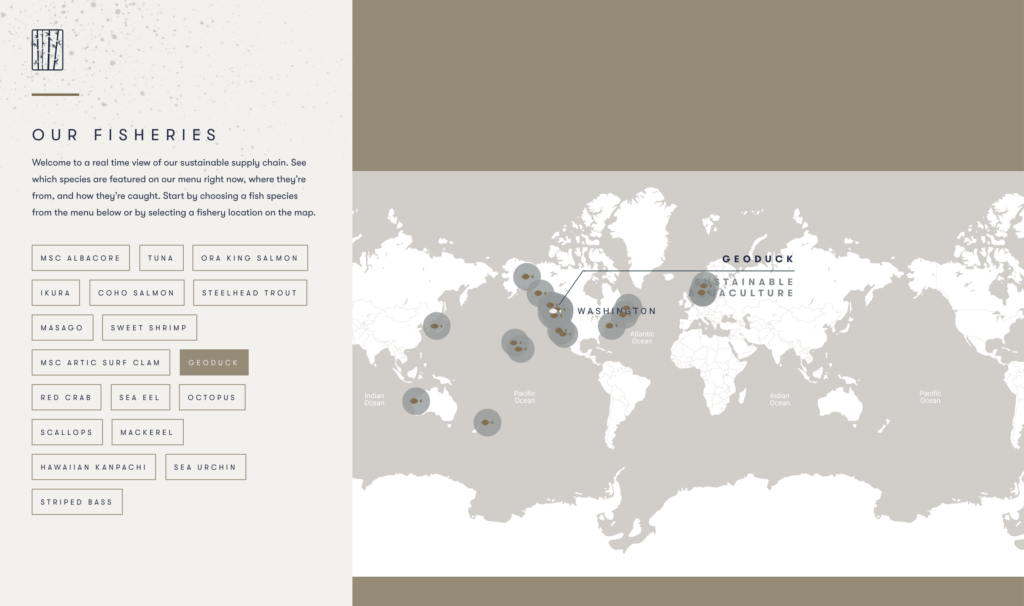 Community
Iván Peña Gómez was one of the first employees at Bamboo Sushi starting in 2012 at the NW Portland store. He has since worked across multiple locations leading kitchen teams and is part of the COVID-19 recovery and reopening team. We interviewed Gómez about the people behind the beloved Bamboo Sushi and how they are looking at the road ahead.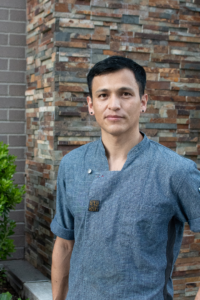 Sortis: As Sortis is a Portland-based company, we've been fans of Bamboo Sushi for a long time. Tell us a bit about your experience with the company over the years.
Gómez: "When I started my journey in the company, I had poor experience as a sushi chef – I had only the experience of one previous job and basic skills. Having the opportunity to join this company 8 years ago helped me to not only improve my skills as a chef, but it also helped me to improve myself as a person and to lead the NW location 4 years later as Head Chef. One year later I decided to move to the SW location to join the morning shift team, until the unexpected happened (COVID-19.)
Sortis: Bamboo Sushi is one of the restaurants that's been able to reopen during the pandemic. What has kept you going?
Gómez: There are always going to be changes – sometimes there will be good ones that lead us to big things, but there will be bad ones that will allow us to learn the most. The importance is to work as a team, to have communication all the time – that is key for everything. In my journey at this company I've seen people join and people leave, people that left some knowledge with us and people that needed to learn. There will always be coworkers that follow you and work with you as one, and that is what we call a good team. But we also need to be open and help those who need to see things differently… so far I have a good team!
Right now the only thing I will hope for is that this crisis can come to an end so that we can all have a normal life, and I hope that Bamboo Sushi can overcome the obstacles it presents for the good of everyone that is part of it.
Sortis: Bamboo is well known for its sustainability. How does that work in your kitchen?
Gómez: It's important to focus on the message of meeting the needs of the present without compromising the ability of future generations to meet their needs. This is one of the reasons why I like the company – it gives me the food to put on my table at home, but at the same time it gives me the knowledge that I need to know, that we are doing our part and trying to help our planet earth and pass it to a new generation for them to continue this important cause of sustainability.
Unfortunately, in these times the entire world is passing through a crisis that has everything out of line. I hope that we can continue working hard and not give up, continuing to work with the community by finding new ways of interaction and presenting the company's food, goals, and to keep teaching people the importance of being sustainable – because that's what defines Bamboo: SUSTAINABILITY.
Future of Hospitality
The restaurant industry has been hit hard by the pandemic. Six months in, many restaurants are evolving business models in order to provide guests and employees with a safe dining experience, but it's an ongoing struggle for every restaurant owner and operator.
Eater: 23 Leaders in the Food Industry Imagine What it Will Take to Save America's Restaurants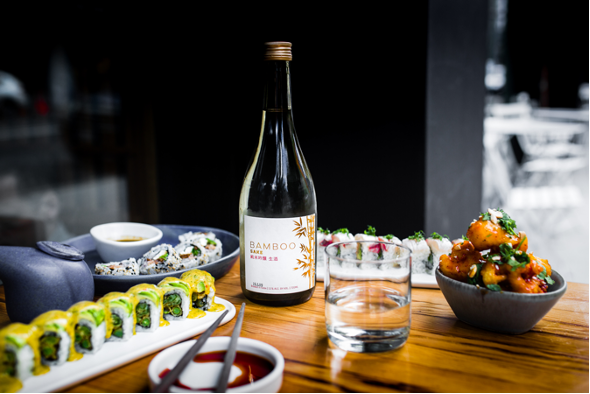 There have also been shifts in what people want – long gone are the days where people yearn for a formal hours long multi-course white tablecloth meal. Future success in the restaurant industry will demand relaxed, comfortable environments with fun and approachable menu offerings.
Bamboo Sushi is committed to operating safely through every stage of the pandemic and has started reopening with measures to ensure guest and employee safety. Bamboo Sushi President, Teddy Albertson, says the growing team is "excited to be involved with a brand like Bamboo that is built on principles and practices that are in line with us personally and professionally. Bamboo is a place of welcome, and a place to talk about sustainability."
Bamboo's CEO, Marcel Lahsene, shares this excitement. For Lahsene, diving into the data driven decision making behind Bamboo's food sourcing, preparation, and dining experience is top of mind. Newly established health and safety requirements including mandated A and B teams and rapid response, testing, and store sanitation will allow Bamboo to continue operations even in the case of a COVID-19 transmission.
Albertson and Lahsene agree that the top priorities for Bamboo right now are getting through COVID safely, protecting jobs and fueling employment, and building on previous successes by continuing to expand responsibly.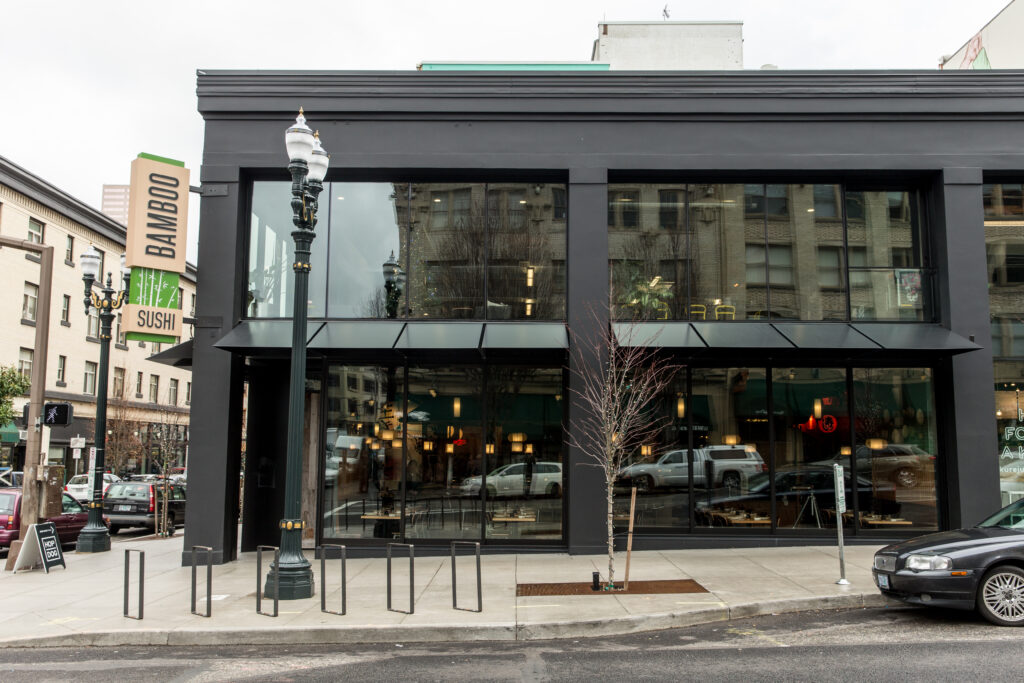 Looking Forward
Sortis is confident that Bamboo Sushi's business model and team, paired with the current environment, have laid the foundations for a strong post-pandemic recovery and continued regional expansion. We are fundamentally aligned with the company's mission to make sustainable eating approachable for everyone, continuing to expand and engage with new audiences both in and outside of the hospitality environment.
"We're extremely excited about Bamboo Sushi as an investment, both for our investors and for our community. The Bamboo brand has been a staple in Portland for almost a decade, and has shown great success so far in its Western U.S. expansion. We started the Sortis Rescue Fund during COVID exactly for opportunities like this, and we plan to invest in the community that has made Bamboo special over the years. We're building a great team who has stepped up in the face of the ongoing pandemic and have been able to move forward keeping our Portland based restaurants open, re-opening out of area stores, and finishing construction on our San Jose store which opens in a few weeks."
– Paul Brenneke, Executive Chairman, Sortis Holdings